ISPConfig - Hosting Control Panel Software (Open Source)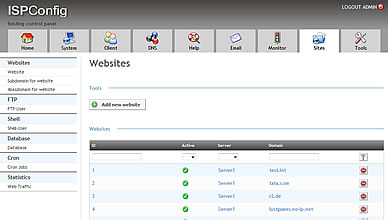 ISPConfig 3
Manage multiple servers from one control panel
Web server management (Apache2 and nginx)
Mail server management (with virtual mail users)
DNS server management (BIND and MyDNS)
Virtualization (OpenVZ)
Administrator, reseller and client login
Configuration mirroring and clusters
Open Source software (BSD license)
ISPConfig 3.0.5. released
ISPConfig 3.0.5 is available for download. This release is a major update and introduces new functions like:
APS package installer. See http://www.apsstandard.org for a list of available packages.
New web backup system which includes the website databases.
Mailuser login.
PHP version selector. Use different PHP versions for different websites.
Subdomains as virtualhost with separate directory inside the directory tree of the main website without rewriting.
Support for mod_perl2.
Improved default theme.
Global search function.
PHP-FPM support for Apache servers.
PHP-FPM mode selector in website options.
Hardened the website folder structure with new folder protection feature and stricter security settings.
Maintenance mode.
Password generator.
Password confirmation fields.
Directive snippets for Apache, nginx, and PHP can now be saved and be reused for other websites.
Forms can be submitted by pressing ENTER (you don't have to click the Save button anymore).
Many more minor feature enhancements and bugfixes.
IDN domains are converted automatically to / from punicode. (requires PHP idn extension from pecl)
Mail traffic reporting for dovecot servers.
System Requirements
ISPConfig 3
Debian 5 – 7, Ubuntu 8.10 – 13.04, CentOS 5.2 – 6.4, Fedora 10 and 12-15, OpenSuSE 11.1 – 12.2. More …
If the system meets all the requirements listed above, then you can run our software on almost any web host.